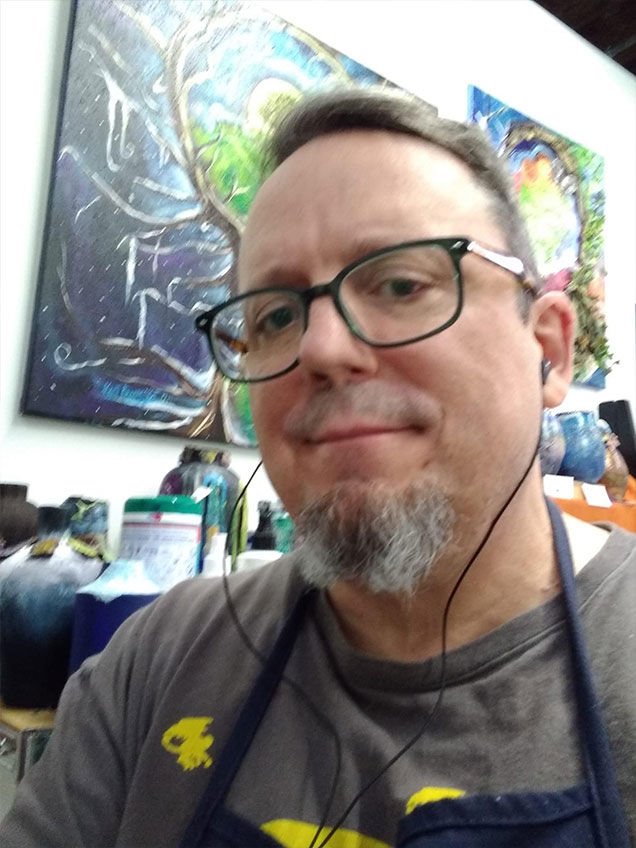 The art of storytelling is what I try to do in my visual art. I'm a storyteller, my mother was a storyteller, my grandmother was a storyteller. Storytelling runs in the family. So let me tell you a short story about this visual storyteller.
I was born in Dennison Ohio a small-town in northeast Ohio. I loved art from grade school all the way up through high school. I loved the theater from grade school all the way through high school. I'm one of six children born to Mary and Edward Fondriest. My siblings are Ed ,Eric, Kryan, Hedy and Michelle. I'm the 5th of six.
The Countryside surrounding my home town is beautiful. It's part of the Tuscarawas Valley. It means "land of God" in the Native American language. I would sit for hours on the hillsides that surrounded my hometown, day dreaming as I would draw, paint, and act out scenes from my imagination. I would create these primitive type installations using sticks ,rocks, wood, branches - anything I could find in my nature's toy box.
This toy box would save me in many ways. I would run here and hide when it was not safe for me to be home. All the things I created on these hillsides became therapeutic for me.
I remember looking through one art school catalogue and coming across the word, "Art Therapy". It reinforce my love combining art, theater and psychology. I knew what I wanted to do in this journey called life. I enrolled in The Columbus College of Art and Design in Columbus, Ohio. I earned my B.F.A. and a minor it art therapy. I continued with my education by earning my M.F.A. from the School of the Art Institute of Chicago.
I started working in the field of art therapy and art education. While doing this I was also doing performance art all around Wicker Park in the mid to late 80's. All these pieces were reflections of my eclectic emotional child hood.
I came to Misericordia Home here in Rogers Park in 1990. I started working with Individuals living with both cognitive and physical disabilities as an expressive art therapist and developmental training instructor. Working here became part of my life's mission. I worked here for 30 years until my health issue of chronic fibromyalgia made me need to step down. I'm still very much involved with Misericordia as a volunteer and know I will be part of it until I leave this life.
My art is a collection of visual memories for me to experience again as I re-imagine certain parts or project what I feel my life needs as new experiences. I could never just pick one medium. I use anything I can find or think of such as a tree bark phase I go in and out of. I love altering wooden vessels to remind me that I was once a ceramics major. Even in clay I added mix media to it.
My work now evolved to using pieces of packing tape with oil sticks on black pastel paper. I love to paint on roofing paper. It reminds me of growing up in a construction worker family and business. As you can imagine, I wanted nothing to do with what was an already mapped out life of working in the family business. That's part of my story that I don't talk about much for many reasons.
Now I'm in my 60 's married for nearly 30 years to my soul mate Dave. I'm so blessed that I worked for nearly 40 years as a working artist in the world of art therapy. Now, being a member of the Greenleaf Art Center just makes life great. A great studio is just a 5 minute walk from home. I love my space here and all the other artists who have become fellow mentors to each other here.
I'm excited as I start the next chapters here in my studio to add to my book of life.